Midnight Ramblings
Lookie who's been slacking in their updates: Me!
I HAVE been a busy little bee though. Hitting the road again, I started in Boston where I tried unsuccessfully to organize a black tie charity event for NHL players facing cancer. I had hoped to pitch it as a spin off of the Jimmy V Classic in college basketball, but could hardly drum up any interest in the 1st Annual Phil Kessel Memorial Ball. I have to do something to keep busy while the Thrashers are out an about. While Harry and I are working on our post holiday pod cast, and I am still trying to get things ironed out with the media relations department so that Brandon Colburn can appear on my next pod cast, until then I thought I would just touch on a few things. OK, now that I have done that, let me mention some stuff too.
The AJC replaced their Thrasher beat writer, and once again J.K. was passed over for a chance to really bring some professionalism to that rag. Ah well, there is way too much fluff in their stuff anyway. It's no secret (is it?) that the paper and the team do not get along, but I don't think the team will be happy until somebody on their payroll is writing the stories for the AJC. I hopes the new guy, Craig something, pays attention (or at least shows up) at games and practices. This sock just wishes there could be some balance between the lazy AJC articles and the online hand jobs given by the teams' Blog Guy and fan correspondent. Since they don't allow fans to post comments on their blither, I have to do it here. I hate to break it to you guys (I assume), but this team is still defensively weak and in need of a legit center. The current roster will not make any type of serious contention for the Cup. Go on with your fluffy reads about why you should come out to the games, or how much you missed Rabid Fan and his 2 minute beer chug over the holiday, all the while whistling through the graveyard that is a first round exit from the playoffs.
As I mentioned, I was on the road again making lint with one of my favorite players Mikey Modano. We were out partying in Dallas and let me tell you, things ARE bigger in Texas! After downing a few with Mikey at The Roundup Saloon, I got the lowdown on his impending 'marriage' to Willa Ford. Mikey, you're trying too hard, but she'll make a wonderful beard… er, BRIDE. As we wander back to our hotel for the night, who should we run into but The Sniders. I verified that the family is still short a member, and we chatted before they headed out to Houston. They are wonderful, and they both have the same haircut! It's cute in a Hostess Twinkie kind of way.
Speaking of pictures, can somebody PLEASE get me a picture of the man with the GIANT head that sits in front of me at the games? Mr. Basketball head sits on the glass, right at the blueline in section 103 with about ten germ-toting, booger-eating brats. His wife(?) has more plastic and paint on her face than Kari and while it is cute to watch him pretend that he understands what is going on, he needs to be in the back row, he blocks the view of the entire end of the ice with that Volkswagen parked on his neck.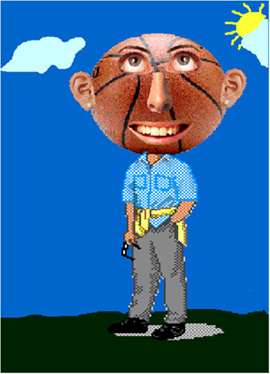 As soon as we get confirmation that defenseman Braylon Cobarn is in, the next pod cast will be in the can and posted, so stay tuned!